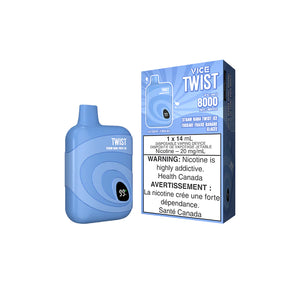 VICE TWIST DISPOSABLE 8k
VICE TWIST DISPOSABLE - STRAW NANA TWIST ICE
Regular price
$26.99
Sale price
$29.99
Unit price
per
STRAW NANA TWIST ICE: A delightful blend of sun-ripened strawberries, zesty orange, and creamy bananas, all intertwined with a refreshing frosty twist.
Introducing the latest addition to VICE's popular range of disposable vaping products, the VICE TWIST. This cutting-edge disposable vape device showcases an innovative LED display that activates when you take a puff. It displays essential information in real-time, including the battery charge status and e-liquid levels. This ensures that you always stay informed about your device's status with each inhale, preventing any surprises such as low e-liquid levels or a depleted battery. Recharging the device is a breeze with a USB type-c cable when the battery runs low.
The VICE TWIST DISPOSABLE boasts an astonishing 8000 puffs, generously packing a 14mL e-liquid capacity and a robust 800 mAh battery, granting users extended vaping pleasure between recharges. With the built-in adjustable airflow switch, you can fine-tune your vaping experience, ensuring bold flavours and a smooth yet gratifying hit.
---
Share this Product
---