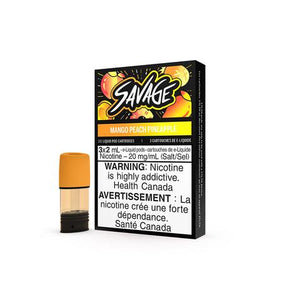 STLTH PODS
STLTH POD PACK SAVAGE MANGO PEACH PINEAPPLE (3 PACK)
Regular price
$17.99
$0.00
Unit price
per
STLTH Savage Pod Pack Mango Peach Pineapple


Step into paradise with Quality Vapes STLTH Savage vape pods in Mango Peach Pineapple, crafted specifically for STLTH devices. Let the lush fusion of Mango, Peach, and Pineapple transport your senses to an island oasis. The alluring aroma and juicy mix of fruits make for a vape adventure that stands in a league of its own. Compatible with STLTH's cutting-edge technology, these savage STLTH pods are your ticket to an escape, anytime, anywhere. Experience this tropical luxury today!
STLTH Savage vape pods Mango Peach Pineapple by Quality Vapes is rapidly earning its place as a fan-favorite among STLTH's pod offerings. Don't forget to explore our full array of flavors in our Tropical Bliss review. Also, take the opportunity to dive into other exciting STLTH collections like STLTH 8K, STLTH X, STLTH 5K, STLTH 3K, POP PODS, and Z-Pods for even more mouth-watering options.
Leading the Charge in Vape Tech
When it comes to leading-edge vape pods, STLTH is paving the future. Designed for efficiency, satisfaction, and robustness, STLTH Pods feature a sleek, pocket-friendly build perfect for those who live life on the move. Boasting a vast array of scrumptious flavors customized to individual preferences, STLTH Pods are your go-to choice for unparalleled quality and flavor—always delivering peak performance, no matter where you are.
STLTH Compatible Savage Mango Peach Pineapple
Elevate your vape game with STLTH Savage vape pods in Mango Peach Pineapple from Quality Vapes. Offering the pinnacle of e-juice flavors, our pods redefine vaping pleasure. From the irresistible fruit blends to a myriad of other taste adventures, we've got something to tantalize your palate. Crafted with premium-grade e-liquid concentrates, our pods promise a long-lasting, flavor-packed experience. So why settle for the ordinary when you can ascend to a new vape high with Tropical Bliss STLTH Pods from Quality Vapes?
Revel in a distinct and extraordinary fusion of tropical flavors
Savor the richness of top-grade e-liquid concentrates in every pod
Boost your vaping journey with the unparalleled taste of Tropical Bliss STLTH Pods
Indulge in a symphony of intense and memorable flavors
Unlock a new realm of vaping pleasure with Quality Vapes' Tropical Bliss STLTH Pods
What's Inside the Box
3 x 2mL Pods of Premium E-Liquid
Specifications
Our Bold 50 formulation provides a specially blended nicotine mix, designed to emulate the sensations of a high-nicotine vape. Complying with the 20 mg/mL federal restrictions, this blend captures the essence of a 50 mg/mL experience.
All pods feature a balanced 50PG/50VG ratio
Compatibility
Tailored exclusively for STLTH devices, including:
Upgrade to the extraordinary with Quality Vapes' Tropical Bliss STLTH Pods. Your taste buds will thank you.
---
Share this Product
---