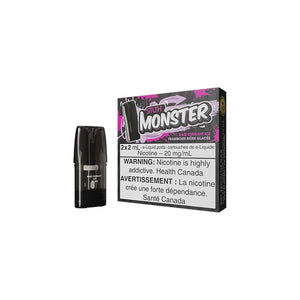 STLTH MONSTER POD
STLTH MONSTER POD PACK - RAZZ CURRANT ICE
Regular price
$11.99
$0.00
Unit price
per
RAZZ CURRANT ICE: A harmonious fusion of tangy raspberries and the rich, dark allure of black currants, all expertly chilled to perfection.
Experience flavour beyond limits with STLTH MONSTER PODS! Designed for seamless compatibility with the STLTH TYPE-C DEVICE, these revolutionary pods are brimming with innovations that will transport your vaping adventure to astonishing new heights. Get ready to revel in vaping satisfaction like never before. STLTH MONSTER PODS have been painstakingly crafted to deliver elevated satisfaction and an enhanced flavour experience, rivalling that of disposable vape devices.
STLTH MONSTER Pods feature a distinctive nicotine blend designed for a remarkably smooth transition for adult smokers. With the incorporation of vertical mesh coil technology, your taste buds will be treated to flavours that burst with intensity, taking your palate on a smooth and exhilarating ride. Improvements in airflow and vapour production ensure a smooth and satisfying vaping experience with STLTH MONSTER Pods, from the first draw to the last puff.
STLTH MONSTER Pods come with a fresh, new look, boasting a user-friendly visible e-liquid design and a sleek, ergonomic mouthpiece. The visible e-liquid design ensures you're always in the know about your vape juice levels, and the comfortable slim mouthpiece will have you enjoying every draw with unparalleled ease. Prepare to embark on a flavour expedition like never before with a vibrant array of 21 bold and exciting flavours, each designed to tantalize your taste buds. Elevate your satisfaction with STLTH MONSTER
---
Share this Product
---