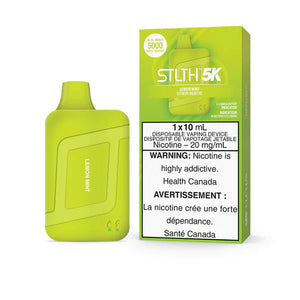 STLTH 5K
STLTH BOX 5K DISPOSABLE - LEMON MINT
Regular price
$22.99
Sale price
$24.99
Unit price
per
Introducing the STLTH BOX 5K DISPOSABLE - LEMON MINT, a revolutionary vaping device that encapsulates the spirit of innovation and taste. Indulge in the invigorating burst of freshly squeezed lemon, perfectly balanced by a refreshing hint of cool mint. Each puff is a dance of flavors, leaving you refreshed and craving for more.
With an impressive capacity of up to 5000 puffs, this device is designed to provide a long-lasting vaping experience. Integrated liquid and battery indicators ensure you're always in the loop, keeping track of your usage and charging status with ease.
Catering to a wide spectrum of taste preferences, the device comes in an impressive array of 15+ flavors. Each STLTH BOX is filled with 10 mL of e-Liquid, at a concentration of 20 mg/mL, offering the ideal blend of flavor intensity and vaping satisfaction.
Powered by an internal 600 mAh battery, this device promises robust performance throughout your vaping session.
---
Share this Product
---