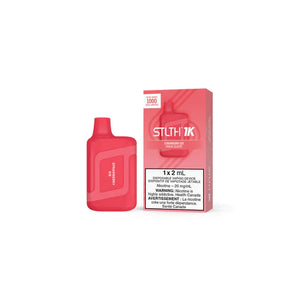 STLTH BOX 1K DISPOSABLE
STLTH BOX 1K DISPOSABLE - STRAWBERRY ICE
Regular price
$10.99
Sale price
$11.99
Unit price
per
Embark on a delightful journey of sweet and succulent strawberries, expertly infused with a chilling blast of icy freshness with the STLTH BOX 1K DISPOSABLE - STRAWBERRY ICE; the most compact disposable vape device to date from STLTH! With a sleek matte finish and an ultra-compact size that easily fits in your palm, this device is tailor-made for on-the-go vapers, allowing you to indulge in your favourite flavours wherever you roam.
Designed for effortless use, the STLTH 1K comes pre-charged and ready to go right out of the box. Its 2mL e-liquid capacity and powerful 400mAh internal battery, without the need to recharge allow you to enjoy a maintenance-free vaping experience for up to 1000 puffs.
With a remarkable selection of 14 flavours to choose from, there's a perfect taste for everyone. Unlock a world of flavour and smooth, hassle-free vaping with the STLTH BOX 1K DISPOSABLE; the ultimate blend of compact design and convenience! Grab yours now and embrace a new level of satisfaction!
Flavour Notes:
---
Share this Product
---