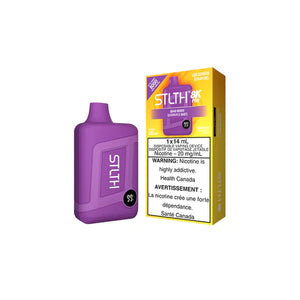 STLTH BOX 8K PRO DISPOSABLE
STLTH 8K PRO QUAD BERRY
Regular price
$29.99
Sale price
$30.99
Unit price
per
STLTH 8K PRO QUAD BERRY Disposable Vape
Berry Bliss Awaits in Every Puff
Fourfold Berry Symphony
Dive into the rich berry medley offered by the STLTH 8K PRO's QUAD BERRY. A masterful combination of four handpicked berries harmoniously converge, delivering a taste that is both lusciously sweet and tantalizingly tangy.
QUAD BERRY Key Features:
Savour 8,000 Puffs of Berry Indulgence
Generous 14mL E-Liquid Chamber: Bursting with a E-Liquid Quartet of Berry Notes
LED Screen: Effortlessly Monitor Battery & E-Liquid Levels
Dependable 800mAh Battery: Ensuring Prolonged Berry Enjoyment
Quick USB Type-C Charging: For Those Always On-The-Go
Our Verdict - A Berry Lover's Dream
With QUAD BERRY, you're not just vaping, you're embarking on a flavorful journey. Crafted to satisfy the most discerning palates, explore this and more at Quality Vapes, your one-stop-shop for all disposable vape essentials.
---
Share this Product
---