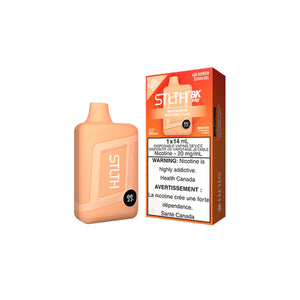 STLTH BOX 8K PRO DISPOSABLE
STLTH 8K PRO Peach Mango Ice Disposable Vape
Regular price
$29.99
Sale price
$30.99
Unit price
per
STLTH 8K PRO PEACH MANGO ICE
Experience a Tropical Tango with a Cool Undertone. Dive into the unparalleled taste sensation of the STLTH 8K PRO's PEACH MANGO ICE. Let the sweet undertones of ripe peaches serenade your taste buds, while the succulence of tropical mangoes dances alongside. As the warmth of these fruits swirls in, a surprising blast of ice adds the perfect finish.
PEACH MANGO ICE Key Features:
Revel in 8,000 Puffs of Tropical Exuberance
14mL E-Liquid Chamber: Home to the Tropics' Best
LED Screen: Keep tabs on E-Liquid and Battery Vitality
Powerful 800mAh Battery: Powering Every Lush Puff
Fast USB Type-C Charging: Ensuring You're Always Ready for a Vape Session
Our Verdict - A Fruitful Escape
Within Quality Vapes disposable vapes selection, the PEACH MANGO ICE is a testament to tropical luxury. It's more than just a vape flavor; it's a passport to a tropical paradise with every inhale.
---
Share this Product
---