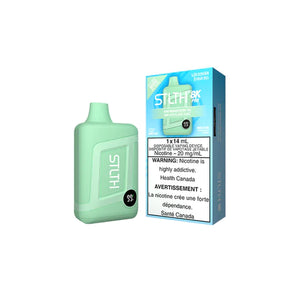 STLTH BOX 8K PRO DISPOSABLE
STLTH 8K PRO KIWI DRAGON BERRY ICE Disposable Vape
Regular price
$29.99
Sale price
$30.99
Unit price
per
STLTH 8K PRO - KIWI DRAGON BERRY ICE
Journey to a World of Flavoured Euphoria. Step into the vibrant spectrum of the STLTH 8K PRO with KIWI DRAGON BERRY ICE. Each inhale whisks you into a tropical dance, as tangy kiwi intertwines with the sweet nectar of dragon berry. Just when you think the journey is at its peak, a rush of cool ice sweeps in, elevating the entire experience.
KIWI DRAGON BERRY ICE Key Features:
Dive into 8,000 Puffs of Tangy Sweetness and Icy Coolness
Generous 14mL E-Liquid Chamber: A Trove of Tropical Delight
Illuminating LED Screen: Stay Updated on Battery & E-Liquid Levels
Trusty 800mAh Battery: Ensuring Continuous Flavorful Ventures
Speedy USB Type-C Charging: Designed for Vapers on the Go
Our Verdict - A Tropical Dream Realized
In our expansive collection of disposable vapes, the KIWI DRAGON BERRY ICE stands tall, embodying a perfect blend of sweet and tangy with a refreshing finish. Part of the acclaimed STLTH 8K PRO line, this flavor invites vapers on a voyage to a tropical paradise, with every puff promising an unforgettable sensation. Truly, a taste adventure like no other.
---
Share this Product
---