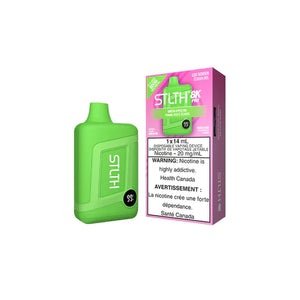 STLTH BOX 8K PRO DISPOSABLE
STLTH 8K PRO Green Apple Ice Disposable Vape
Regular price
$29.99
Sale price
$30.99
Unit price
per
STLTH 8K PRO Green Apple Ice Disposable Vape
An Orchard Chill in Every Puff
Tart and Frosty Delight
The STLTH 8K PRO's new flavour GREEN APPLE ICE captures the essence of a freshly picked green apple with its vivacious dance of crisp and tart nuances. As the apple flavor reaches its crescendo, it smoothly transitions into a soothing, icy exhale, offering a balanced, refreshing experience reminiscent of frost-kissed orchards.
Key Features of STLTH 8K PRO Green Apple Ice
Up to 8,000 Puffs of Crisp Apple Enveloped in Coolness
14mL E-Liquid Chamber: Packed with Nature's Best
LED Screen: Monitor Battery & E-Liquid Status at a Glance
Robust 800mAh Battery: Continuous Flavor Enjoyment
Quick USB Type-C Charging: Convenience at its Best
Elevate Your Vaping Journey

GREEN APPLE ICE isn't just a flavor; it's a sensory voyage. From the tangy bite of green apple to the chill of winter ice, every puff is an adventure waiting to be savored.
Delight in the harmonious blend of tart green apple and refreshing ice, uniquely captured in GREEN APPLE ICE.
---
Share this Product
---