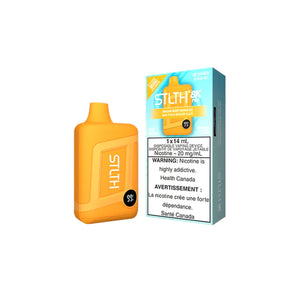 STLTH BOX 8K PRO DISPOSABLE
STLTH 8K PRO - DRAGON BERRY MANGO ICE Disposable Vape
Regular price
$29.99
Sale price
$30.99
Unit price
per
---
STLTH 8K PRO - DRAGON BERRY MANGO ICE

An Exotic Dance of Tropical Delights and Winter's Breath
Taste the Tropics Like Never Before
At Quality Vapes, we're passionate about offering the finest vaping experiences. The  DRAGON BERRY MANGO ICE from STLTH 8K PRO is a testament to this, serving a luscious fusion of tropical enchantment. Let each inhale transport you to island paradises with the exotic allure of dragon fruit, the vibrant burst of mango, and the richness of mixed berries. Just when you think the journey ends, an icy breeze sweeps in, elevating the tropical sensation to a cool, invigorating paradise.
STLTH 8K PRO DRAGON BERRY MANGO ICE Features
Indulge in up to 8,000 Puffs of Tropical Refreshment
Expansive 14mL E-Liquid Chamber for Continuous Tropical Delight
Smart LED Screen: Never Lose Track of Battery & E-Liquid Status
Durable 800mAh Battery, Designed for All-Day Adventures
Quick USB Type-C Charging, Keeping Your Vaping Journey Uninterrupted
Quality Vapes Verdict on DRAGON BERRY MANGO ICE STLTH 8K PRO

Choosing Quality Vapes means diving into a world where every flavor tells a story, every puff is an adventure. DRAGON BERRY MANGO ICE, like our myriad offerings, stands as a symbol of our dedication to providing unmatched vaping experiences. Explore this and more from our extensive range of premium vape products.
Immerse yourself in a tropical dream with a cool twist, with DRAGON BERRY MANGO ICE, only at Quality Vapes.
---
Share this Product
---