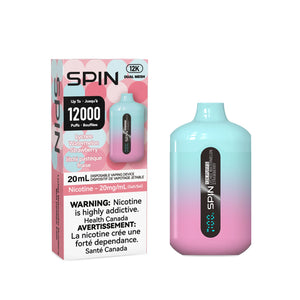 Spin 12000 Disposable Device
SPIN 12K DISPOSABLE VAPE - LYCHEE WATERMELON STRAWBERRY
Regular price
$34.99
Sale price
$39.99
Unit price
per
Introducing the Spin 12000 Disposable Device – a groundbreaking innovation redefining your vaping experience. As the pioneer of the Canadian market, the Spin 12000 stands as the very first disposable device offering an astounding 12000 puffs, ensuring an extended and satisfying journey into the world of flavors.
At the heart of the Spin 12000 is its revolutionary dual mesh coil system. Crafted with cutting-edge coil technology, this device guarantees a vaping encounter like no other. Bid farewell to the dreaded burnt taste that can mar your enjoyment – the dual mesh coil excels in preventing such unpleasant experiences, preserving the integrity of your chosen e-liquid while providing consistently rich and flavorful clouds.
Longevity is paramount, and the Spin 12000 excels in this aspect. Thanks to its advanced coil architecture, this device is engineered to endure beyond expectations, delivering puff after puff of delightful vapor without compromising on quality. Experience vaping bliss that lasts, keeping you engaged for an extended period.
But that's not all. The Spin 12000 isn't just a device; it's an intelligent companion. Equipped with a smart screen, this disposable masterpiece effortlessly keeps you in the know. Stay informed about your battery status and e-liquid level at a glance, ensuring that you're always in control. No more guessing games – the Spin 12000 empowers you to plan your vaping sessions with precision.
Whether you're a vaping enthusiast or new to the scene, the Spin 12000 Disposable Device promises an unparalleled adventure. Embrace the future of vaping technology with a device that offers exceptional endurance, unrivaled flavor delivery, and intelligent insights. Elevate your vaping journey with Spin 12000 – where innovation and satisfaction unite in every puff.
Name: SPIN 12000
Liquid Capacity: 20ml 
Puff count: Up to 12000
Battery: 650mAh
Coil: DUAL Mesh Coil
Rechargeable: Yes 
---
Share this Product
---