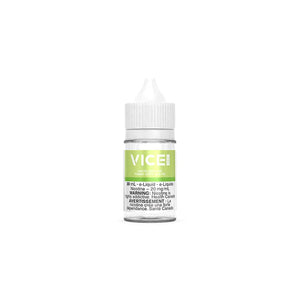 VICE SALTS
GREEN APPLE ICE BY VICE SALT
Regular price
$24.99
$0.00
Unit price
per
Introducing Green Apple Ice by VICE SALT, a tantalizing E-liquid that combines the crisp and tangy flavor of green apples with a refreshing twist of icy coolness. Get ready to awaken your taste buds with this invigorating and fruity vape experience.
With each inhale, you'll be greeted by the distinct and vibrant taste of freshly picked green apples. The tartness and crispness of the apples create a refreshing sensation that will tantalize your palate and leave you craving for more.
As the vapor unfolds, the icy coolness takes center stage, providing a revitalizing blast of menthol that perfectly complements the green apple flavor. The fusion of fruit and coolness creates a well-balanced and exhilarating vaping experience that is both refreshing and satisfying.
VICE SALT ensures a smooth and satisfying throat hit, allowing you to enjoy the full flavor without any harshness. Crafted with precision using high-quality ingredients, Green Apple Ice guarantees consistency and premium quality in every puff.
For those who appreciate the tangy and refreshing taste of green apples with a chilly twist, Green Apple Ice by VICE SALT is a must-try. Immerse yourself in the world of crisp apples and invigorating menthol, and let your taste buds revel in this sensational flavor combination. Get ready to experience a refreshing burst of green apple goodness with Green Apple Ice by VICE SALT.
Flavour Notes:
Vice Salt E-Liquid is NOT intended for use in Sub-Ohm Tank systems. Vice Salt E-Liquid is intended for small pod systems. 
50% VG 50% PG
---
Share this Product
---