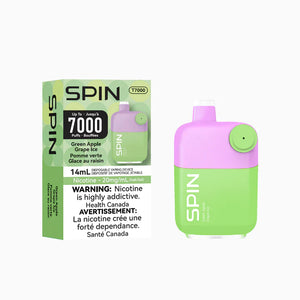 SPIN T7000 PUFFS
GREEN APPLE GRAPE ICE - SPIN T7000
Regular price
$28.99
Sale price
$30.99
Unit price
per
Introducing SPIN T7000: The Ultimate Disposable Vape with a Playful Twist!
Experience the perfect blend of relaxation and enjoyment with the all-new SPIN T7000 disposable vape. Designed to cater to your vaping needs like never before, this innovative device features a unique and playful feature that sets it apart from the rest. Get ready to destress and delight in every puff as you spin the small wheels on your vape!
With the SPIN T7000, vaping becomes an immersive experience. The small, easy-to-use wheels on the device bring a touch of fun and interactivity to your vaping sessions. Simply spin the wheels with your fingertips and feel the stress melt away. It's a perfect way to add a bit of playfulness to your day, all while enjoying the smooth and satisfying vapor.
---
Share this Product
---