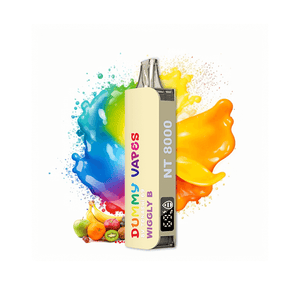 Dummy Vapes, by Tekashi Six9ine
Wiggly B by Dummy Vapes - 8000 Puffs - Disposable Vape
Regular price
$31.99
Sale price
$34.99
Unit price
per
Wiggly B by Dummy Vapes


Enter a delightful world of sugary indulgence with our Wiggly B disposable vape. This flavor evokes memories of childhood, where gummy candies ruled the heart, and every bite was a joyous celebration.
Sweet Sensations & Fruity Undertones: Wiggly B is a masterful fusion of deliciously sweet gummy candy notes complemented by a medley of mixed fruit flavors. Each inhalation from its ample 17ml E-liquid reservoir assures you a journey through nostalgic lanes, promising up to 8,000 vibrant and consistent puffs.
Modern Craftsmanship, Timeless Flavor: Adorned with eye-catching colors and a playful splash of paint, Wiggly B isn't just about flavors; it's a reflection of modern design aesthetics. The integrated LED display provides a quick glimpse of your battery and E-liquid status, ensuring an uninterrupted vaping experience. At its core, a powerful 650mAh battery stands ready, with the convenience of Type-C recharging to keep the fun going.
Rediscover Childhood with Quality Vapes: Let Wiggly B be your ticket back to those carefree days, where joy was found in simple sugary treats. This flavor is not just a vape; it's a journey back in time, waiting for explorers.
Immerse yourself in the sweet symphony of Wiggly B. Available now at Quality Vapes, where modern meets timeless.
---
Share this Product
---