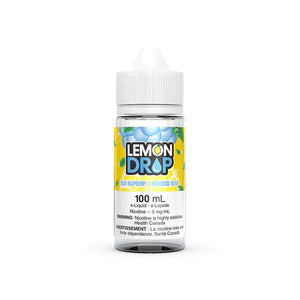 LEMON DROP 100ml FREE BASE
BLUE RASPBERRY BY LEMON DROP 100ML
Regular price
$44.99
Sale price
$49.99
Unit price
per
BLUE RASPBERRY BY LEMON DROP 100ML
Introducing Blue Raspberry by Lemon Drop, a tantalizing flavour that will leave your taste buds craving for more. This premium e-juice is carefully crafted with high-quality ingredients and infused with a perfect balance of blueberries and raspberries, resulting in a sweet and tangy flavour that is simply irresistible.
Each bottle of Blue Raspberry by Lemon Drop contains 100ml of e-liquid, providing you with hours of vaping pleasure. Whether you're a beginner or a seasoned vaper, this e-juice is perfect for anyone who loves fruity flavors. The 70/30 VG/PG blend ensures a smooth and satisfying vaping experience with dense clouds of vapor.
Blue Raspberry by Lemon Drop is available in a convenient chubby gorilla bottle with a child-resistant cap, ensuring the safety of your loved ones. The bottle design also makes it easy to fill your tank or drip your RDA without any mess or hassle.
So, if you're looking for an e-liquid that will satisfy your cravings for a delicious fruity flavour, Blue Raspberry by Lemon Drop is definitely worth trying. Order now and experience the perfect blend of blueberries and raspberries in every puff.
Flavour Notes:
70/30 VG/PG
---
Share this Product
---